I am building this website as a way to record various items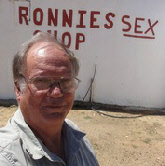 and organise them into a single place.
My computer files have grown over the years and stuff is scattered all around.
I hope this will give me a way of cleaning things up a bit and make it easier to locate them in future.
Oh, in case your ask, Ronnies Sex Shop is a roadside bar about 60 miles East of Cape Town. Its full of graffiti and 60s stuff and they only play 60s biker music. Its a cool place.
The photo at the top is a 180 degree panorama shot of the main lawn at Simmonds taken on Christmas Day in 2010.
In this website I plan to resurrect some old websites that I built many years ago as they still have a lot of content and memories in them.
The first one is all about my Car Rallies. For 10 years prior to 2002 I tried to collect press clippings and scanned them all into a website. As you will see there are a lot of them.
Since 2002 I have not kept up with the press clippings or kept such detailed records, but I will attempt to pull together what info I can find to continue the story.
The second old website that also contains a lot of research is all of the Family History info that I have collected. Again I did this work a while ago and I will eventually get back to updating it and hopefully extending it and filling in more gaps.
I will also add some photo albums and a brief resume of my Working Career. I may also add a section on my own cars and cars I have worked on.
Lots to do, should keep me busy for a while on rainy days and dark evenings.